Large/Small Insert Cloning
1. Large Insert Cloning
In-Fusion technology has been optimized for cloning large fragments.
DNA inserts up to 15 kb have been successfully cloned into pUC19 using In-Fusion Cloning.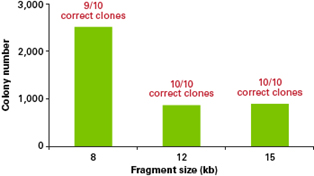 그림. Ten out of ten colonies contain the correct insert (100% cloning efficiency) when cloning fragments as large as 15 kb (results confirmed by colony PCR screening).
2. Small Insert Cloning
The smallest insert successfully cloned with In-Fusion Cloning was a 50-bp synthetic oligonucleotide (including two 15-nt homologous overlaps with the vector termini).
For In-Fusion Cloning of short synthetic oligos (between 50 and 150 bp), the suggested oligo-to-vector molar ratio is 5-15:1. Depending on oligo length, the optimal ratio must be determined empirically.
Note:
Non-phosphorylated oligonucleotides are compatible with In-Fusion Cloning. However, the 3' exonuclease activity in the In-Fusion enzyme mix requires terminal 3' OH groups.